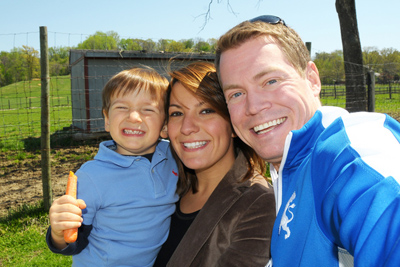 dhtns.com is the web site of Elliott and Tanya Bennett and our son, Aiden. He is an energetic two-year-old boy who keeps us occupied and fascinated every day.
We are constantly updating the photo gallery with recent pictures of our family's everyday activities and adventures.
E. Elliott Bennett is a technology nut, with a particular interest in photography, video, the iPhone, and all things Apple.
When not working or maximizing her time with Aiden, Tanya's free time is occupied by golf, photography, reading, and travel—although not always in that order.
Tanya and Elliott together run Logic Media, a Louisville, KY based web design firm.
Aiden Bennett, the most precious member of the family, has a wide variety of interests, and at three-and-a-half they seem to change weekly (sometimes, daily). He likes cartoons and movies, such as Transformers, Spiderman, Kung-Fu Panda, Finding Nemo, and The Land Before Time. Anything spiderman or transformers related, toys, books, puzzles and stickers. And of course general toys includng dinosaurs, sharks, balls, snakes, and other items he's not supposed to get in to tend to be sources of his daily entertainment. Recently, Aiden has also taken up gymnastics in a futile attempt to burn off some of his unrelenting energy. Many of his adventures are documented on his personal website, www.aidenbennett.com.
And how could we forget the other four members of our family? Our four cats, Fredo, Fermi, Ozzy, and Isis, haven't received the attention they used to since Aiden came along. They still make their presence known every morning, right around feeding time.